Protect the Sanctity of Marriage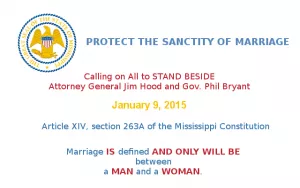 Mississippi has a 1997 law banning same-sex marriage. In 2004 we exercised our rights and voted on a constitutional amendment that defines marriage as being between a man and a woman.
On Nov 25, 2014, U.S. District Judge Carlton Reeves threw out the states ban. Both the Attorney General and Governor of Mississippi is appealing this decision. In the mean time if the Circuit does nothing by Dec 10, 2014, circuit clerks will be forced to issue licenses to same-sex couples.
---
More information can be found at: