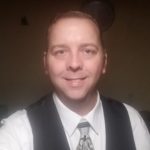 Hi, my name is Jonathan Ryan Grice.
I am a 3rd generation professional Commercial Driver with over 11 years experience in the Transportation/Trucking Industry. I've been an Independent Driver for Lyft, Inc. and Uber, Inc. with a combined 3 years experience of Rideshare/TNC driving. I also am a certified 3rd Party Developer for Clover, Inc.
I guess the biggest change in my life has been losing close family members. It brought me to a crossroads, in where I needed a definite change. Not just focusing on myself and my woes.
I made a major life decision to leave my old life behind and become more active in the Church. It was the best decision I've ever made! I was delivered from some old addictions and now I strive to live free of addictions of the flesh, addictions of the eyes, or pride of life.
Paul wrote in his first letter to the church at Corinth, "…know ye not that your body is the temple of the Holy Ghost which is in you, which ye have of God, and ye are not your own?" Being Holy Ghost filled, my body is a temple for God. My eyes, to see when my brothers and sisters in Christ need help to help and edify them when necessary. My life and all I do is dedicated to the Lord.
I am currently studying for a degree in Biblical and Ministerial Studies. I attend Pine Grove Pentecostal Church in Sebastopol, MS.