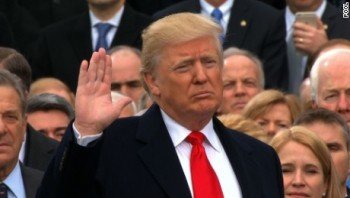 January 20, 2017, will go down in the record books for being the most monumental day in history when the Republican, President-Elect, Donald John Trump was sworn in as the 45th President of the United States of America. Friends, family, and many onlookers joined as the inauguration began. Michael Richard Pence "Mike" was sworn in as the 48th Vice President of the United States of America.
President Trump proclaimed, "it's going to be America First," and "You (citizens) will never be ignored again," during his inauguration speech today. It's time our government strengthens our Nation accordingly. Before spending our tax dollars frivolously on the undeserving, self-entitled, and outsiders. Before sending our soldiers to countries that its citizens would rather execute us rather than accept the help the United States tries to give them. It's time our government starts focusing on the United States and our allies.
Some potential spectators encountered difficulty attending the Presidential Inauguration when protesters blocked several entrances to the event and countless Democrats boycotted the inauguration. As the day progressed, protesters became violent and turned terroristic when they armed themselves with crowbars and hammers, smashing the windows of businesses and setting a vehicle on fire. Arrests was made on more than 200 terroristic protesters in the U.S. Capital City after being corralled by Police in riot gear using tear gas and water pistols, while six officers sustained injuries and two of which was hospitalized.
The majority of protests elsewhere around the Country cannot be called peaceful either. 27 protesters were arrested in Los Angeles for causing gridlock in the Financial District after a dispersal order was given.
In Nashville, TN, protesters chained themselves together with PVC pipe, chains, and locks outside the Capital building. 10 protesters were arrested after they were told not to block the doors to the Capital.
A New York City Councilman and a State Senator was photographed in handcuffs. Councilman Juumane Williams, Councilman Carlos Menchaca, and State Senator Marisol Alcantara were arrested with others at a protest outside Trump Tower in New York City. No details were given by the Police on the arrests.