Around 16:00 April 15, 2015 Doug Hughes landed a small, one person helicopter at Capitol Hill in hopes to petition congress for campaign reform after getting the idea from his son dying in a vehicle accident a few years earlier.
Mr. Hughes, 61, from Ruskin, FL allegedly informed authorities as well as being interviewed by the Secret Service of his plans. According to Mr. Hughes, he has no intention of injuring anyone in his attempt to alert Congress of his petition.
There was absolutely no explosive material found on Mr. Hughes' aircraft after the Capitol's bomb squad examined the gyro-copter.
Mr. Hughes has been arrested and is being detained by D.C Police. No additional information has been given and there has been no word of if and when Mr. Hughes will be released.
---
More information:

http://baltimore.cbslocal.com/2015/04/15/small-aircraft-lands-on-capitol-lawn-pilot-in-custody/
Florida Man Arrested After Small Aircraft Lands On Capitol Lawn « CBS Baltimore
Terror in the sky. After a small, one man aircraft lands on Capitol grounds. It sent the nation's capital into high alert. News, Sports, Weather, Traffic and the Best of Baltimore
---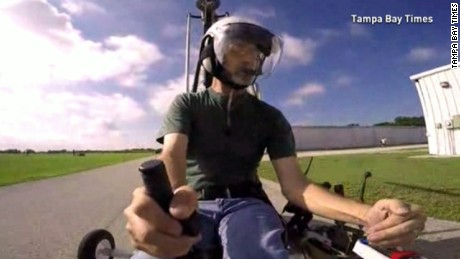 http://www.cnn.com/videos/us/2015/04/15/pkg-pilot-lands-gyrocopter-capitol-grounds.tampa-bay-times-zumapress-com
In his own words, pilot explains Capitol mission – CNN Video
Before flying to Washington, pilot Doug Hughes made a video explaining why he planned to land his gyrocopter on U.S. Capitol grounds.