Here is an incomplete list of .IO games such as, Agar.io and Slither.io; as well as other interesting .IO websites.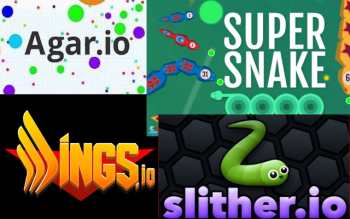 While this isn't a complete list of highly addicting browser based games. This is a list of the games and websites that I have came across. Feel free to visit, play, and share the links. If you know of any others, comment below and I'll add them to the list.
Agar.io
Agario is an addicting game where you start out as a small blob in a grid. You advance through the game to become top 5 players by eating other blobs and dots to gain mass. Click here to visit Agar.io.
Cursors.io
Cursors.io is a game of teamwork. Work your cursor through an almost infinite amount of mazes that rely on a steady hand and simple tasks. Click here to visit Cursors.io.
Diep.io
Diep.io is a simple tank game. Blast your way across the screen avoiding or blasting away homing missiles and opponents. Upgrade your tank for a better arsenal. Click here to visit Diep.io.
Slither.io
Slither.io is definitely an upgrade to the popular Nokia game Snake. Grow your snake by eating dots and trapping and eating other snakes to gain length and get into the top 10. Click here to visit Slither.io.
Supersnake.io
Supersnake.io is a game where you are a snake. Shoot venom, eat smaller snakes, and avoid mines to advance to the leader board. Click here to visit Supersnake.io.
Vertix.io
Wander the halls and blast away other players in this simple but addicting game. Click here to visit Vertix.io.
Wings.io
Wings.io is a highly addicting fast paced game. Fly an airplane around your screen while collecting parachute drops and shooting up opponents. Click here to visit Wings.io.
---
6F.io
6F.io is a interesting website utilizing canvas to display constellations or kaleidoscope lines on a black background. I don't know what this site is intended for but you can upload files to it. Click here to visit 6F.io.
Olsen.io
WolfSquad Commander. This is a small website utilizing accessibility features of talkback to play specific prompts as you navigate the website. It is a well designed personal homepage. Click here to visit Olsen.io.