I was first introduced to the Schick ® Hydro 5 through Crowdtap. Crowdtap is where regular people can help shape products we use everyday!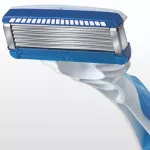 I received a few samples of the Hydro 5 and shared them with my friends and my father. My father and friends liked the samples and coupons I shared with them and they gave the Hydro 5 fairly good reviews after use.
When I shaved with the Schick® Hydro 5, I honestly felt it was a little bulky compaired to my usual brand. The razor also performed just as well. I reckon that if given a choice between another disposible razor and the Hydro 5, I would choose the Hydro 5 hands down. This is because I quit using disposable razors long ago with the invention of the razor cartridge. Best of all, the Schick® Hydro 5 comes in a refillable razor with reusuable handle!
I recommend all my friends that is wanting for a close, smooth shave, to try the Schick® Hydro 5 and see the difference for yourself!