You too can be an Uber Partner by signing up though the referral link below and earn a signup bonus up to $250.
https://partners.uber.com/drive/?invite_code=i6naque
Earn money driving for Uber. Uber offering bonus to switch for Lyft drivers. Part time drivers wanted.
Earn extra cash. Become a partner today and go to work. Contract drivers needed.
Referral Bonus is subject to change in amount and defers between regions.
Trip requirements may vary between regions.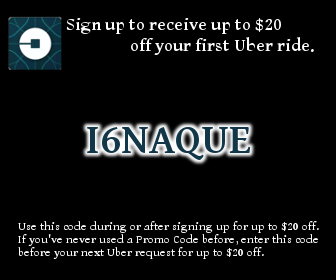 Sign up today for up to $20 off your first Uber ride.
Use this code if you've never used a promo code to receive up to $20 off your next ride.
Click the link below to sign up and receive your free ride.
https://get.uber.com/invite/i6naque
---
This page and all content on this website is owned and can be modified by me.
The Uber, Google Play, Apple, and Microsoft logos are the sole property of the respected companies and are used with permission.
This website is the personal blog of Jonathan Ryan Grice.